The United Nations, United Kingdom, and France were proud to be co-hosting the Climate Ambition Summit 2020, in partnership with Chile and Italy. This was a monumental step on the road to the UK-hosted COP26 next November in Glasgow.
It brought together leaders who are ready to make new commitments to tackle climate change and deliver on the Paris Agreement, five years since it was adopted on December 12, 2015.
Leaders across government, business, and civil society gathered for this online summit as the world deals with coronavirus. But the science is as urgent as ever and tells us that we need to limit the rise in global temperature to 1.5C degrees. We know climate change will not wait. Action must be taken now, together, for our planet, so we can build back better.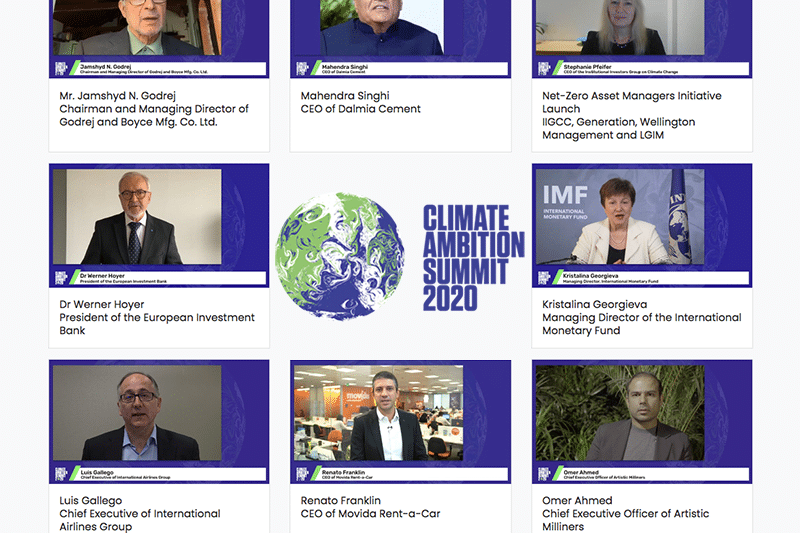 Renato Franklin, Movida CEO, was the only Brazilian delegate to speak at the 2020 Climate Ambition Summit. He reflected on the progress Movida has made this year and highlighted their milestone partnership with the Black Jaguar Foundation.
Movida Car Rental is committed to changing the way their business operates and putting sustainability at the core of their business model.
This revolves around three key areas; "The first is mitigation, using renewable fuels and electric cars. The second is compensation: we neutralize our emissions and those of our customers…and the third pillar is adaptation."
Watch on-demand now >>>