After many months of collaboration, we are proud to present to you the new Black Jaguar Foundation logo! In particular, we would like to name and thank the incredibly skilled designer of the logo, Sjoerd van Schaaijk, dedicating so much time to help and the progress of this re-green mission. We cannot thank him enough for this!
We love our old logo and we're sad to see it go, but as the Black Jaguar Foundation develops, so must our logo. Our mission is simple. To plant 1.7 billion trees and create the longest biodiversity corridor on earth. Our new logo is a more accurate representation of this!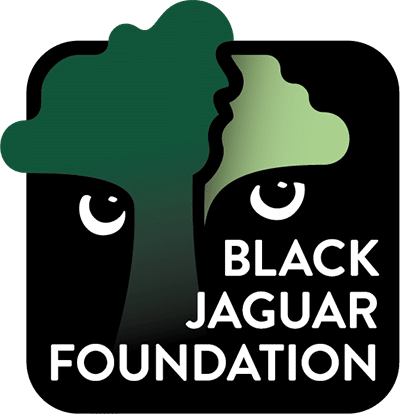 In our infancy, we were motivated to act by the drastic destruction of the habitat which the Black Jaguar once called home. Now, rather than focusing on the destruction, we focus on new life. The urgent and rebellious has made way for the constructive and healing. 
The Jaguar eyes remain to reinforce our name and to keep some continuity with our previous logo. However now, where there was once a footprint, representing the damage left by mankind, we now show a tree. Representing the potential for mankind to change, to learn and to create new life, where previously there has been only destruction. You may even notice the Araguaia Corridor dividing the two parts of this tree; representing the old degraded land, and the new revitalised forest. 
This new logo reflects the evolution of the foundation and embodies the hope of our mission. It represents the instrumental work being done by all of the BJF team and our community of loyal and committed supporters. 
We all have the power to change and our new logo is just one small indication of this. We are excited for you to join us in the next crucial phase of our mission, with more hope and determination than ever.
Here's a look at one of our recently re-greened areas, restored via the direct seeding method just months ago…