The Araguaia Biodiversity Corridor is only possible thanks to the rural partnerships we've established. Our project aims to help rural property owners along the Araguaia River in regularizing their lands according to the Brazilian Forest Code. It also allows to restore areas with environmental deficits by connecting fragments of native vegetation and creating an ecological corridor.
In recent years, our community of rural partners has grown significantly. There are now more than 20 producers who agree that agricultural production and sustainability can – and should – go hand in hand. Because of this, we would like to introduce them to you!
The first to participate in this series of interviews is Carlos Félix, the owner of Fazenda Bela Vista in Caseara (TO).
Watch Carlos Félix's video testimonial!
Check out our conversation and discover how this partnership began and continues to grow stronger: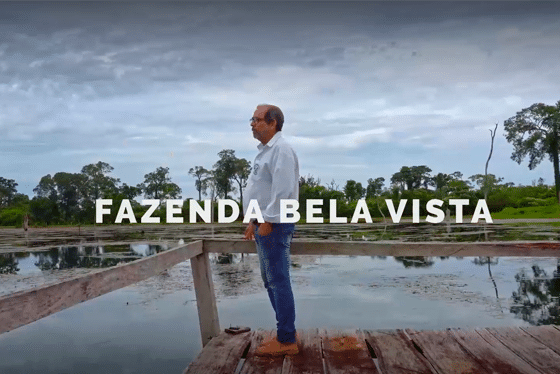 Interview with Carlos Félix, owner of Fazenda Santa Fé
Could you start by telling us where your rural property is located?
CF: I'm based at Fazenda Bela Vista, in the municipality of Caseara (TO), on the banks of the Araguaia River.
Tell us a bit about Fazenda Bela Vista…
CF: Fazenda Bela Vista covers 1,500 hectares. We engage in cattle farming and soybean cultivation. Approximately 51% of the total area is protected, including Legal Reserves and Permanent Preservation Areas (APPs).
What actions and initiatives at Fazenda Bela Vista are related to biodiversity?
CF: Our actions involve complying with the management controls required by Brazilian legislation for the preservation of fauna and flora. In other words, we only work on operations in areas designated for livestock and agricultural production. We do not allow any work in protected areas.
Another action is the partnership with Black Jaguar and their project to revitalize a small Permanent Preservation Area here on the property.
Fazenda Bela Vista has 51% of its total area preserved. 35% is Legal Reserve, as required by the Brazilian Forest Code – and everything is duly documented and registered. There is also a Permanent Preservation Area measuring 1.2 km in length by 500 meters in width along the banks of the Araguaia River. Additionally, we have lakes on the farm with their respective preserved APPs. All this preserved area is condensed into one region, creating a significant ecological corridor.
How did the partnership with Black Jaguar begin?
CF: It began at the end of 2021 when I received a visit from Ben Valks (Initiator) and Marcelle (Articulation Coordinator). They came here to visit and present the project. As soon as the presentation was over, I said, "Ben, you can count on Fazenda Bela Vista; we're in this project together."
What are the benefits for you as a rural producer in this partnership with Black Jaguar?
CF: The main benefit is the revitalization of the Permanent Preservation Area we have on the farm. We believe that with this revitalization, we will ensure or even increase the water supply at the farm's spring.
Another significant benefit is related to legislation. When Black Jaguar, as an organization, comes to rural producers with this project to regularize degraded areas, it's a huge benefit. Black Jaguar is already taking the lead in solving any issue related to Brazilian Forest Code requirements. When financial institutions start demanding the regularization, we will be ready, and we won't have difficulty going to the market to seek capital.
So, it's a great benefit for us, and I can't see why a rural producer wouldn't embrace this cause.
What motivates you to work in partnership with Black Jaguar?
CF: I am passionate about the environment. In fact, I have a postgraduate degree in environmental science. I am passionate about preserving both fauna and flora. That's what gives me pleasure in working with Black Jaguar, knowing that they have a tremendous challenge ahead and are concerned about preserving the banks of the Araguaia River.
What do you think of Black Jaguar's approach to restoration work?
CF: I believe Black Jaguar is on the right path. They have a well-thought-out plan, a well-structured project, and a down-to-earth approach. In their initial contacts with new rural partners, their professionals are very efficient, respectful, and non-imposing. They come to present the project, and it's up to us to accept it or not. Additionally, Black Jaguar doesn't have a goal of expanding at all costs; they grow as they implement their projects.
Do you feel that you are now contributing to ecological restoration?
CF: Yes, and not just me, but other producer partners of Black Jaguar whom I've interacted with also feel the same way.
Would you recommend this partnership to other rural producers?
CF: I would not only recommend it but also advocate for this idea. Wherever I go, among the producers I know, I talk a lot about Black Jaguar. When people approach me because Black Jaguar has contacted them, I am an enthusiast. I say, "let's do this because it's a project that will succeed". It's a very interesting project for rural producers, for Black Jaguar, and even more so for nature. It's possible to produce and preserve. Production and preservation can very well go hand in hand.
Why is Black Jaguar the best choice for you?
CF: Because they have a group of highly skilled professionals, a serious and well-structured project. Despite the difficulties, they continue to overcome various obstacles. They've also formed partnerships here in Brazil. Fazenda Bela Vista received two producers who, after the visit, became partners of Black Jaguar.
Mr. Carlos Félix, thank you very much for the interview! Is there anything else you'd like to add?
CF: I would just like to add that we in agribusiness are often seen as destroyers of the environment. But here in Tocantins, what we've noticed is that rural producers are very concerned about the environment and compliance with the law. Otherwise, we wouldn't be embracing Black Jaguar.
Our deficits happened in the past, and we carry that legacy. In the past, we weren't held accountable for Legal Reserves and APPs, but today we have this concern about protecting the environment and, at the very least, complying with Brazilian law. About a year ago, we established the Tocantins Sustainable Development Association, in the Araguaia Valley.
This association is committed to sustainable production. More and more producers are joining because they are concerned about environmental issues. We need to produce food; the world needs food. But on the other hand, we also need to contribute to the environment.
Would you like to join us in realizing one of the longest biodiversity corridors on Earth? Become one of the First 600 to join our mission of hope and action HERE.