Wednesday, 3rd March is World Wildlife day!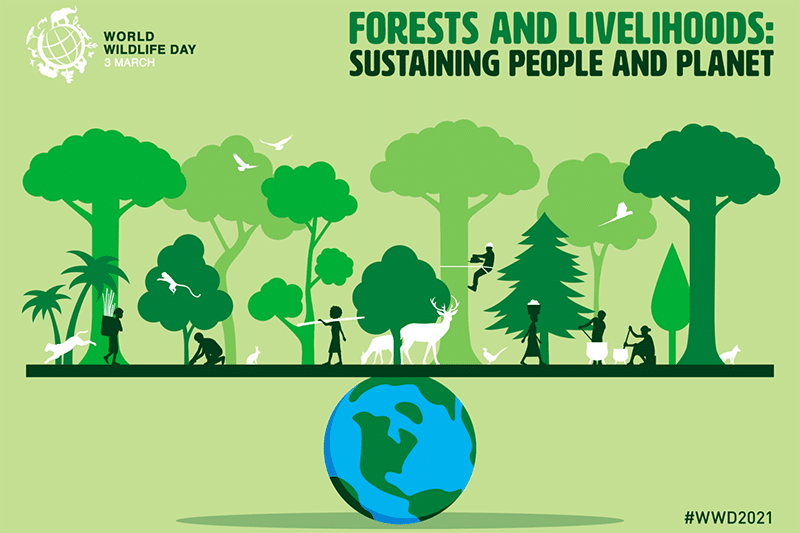 Each year World Wildlife day focuses on one theme which is of the utmost importance for the preservation of our planet's wildlife. This year, the day is being celebrated around the theme of "Forests and Livelihoods: Sustaining People and Planet". 
The aim is to highlight the central role that forests and ecosystem services play in sustaining the livelihoods of hundreds of millions of people globally. In honour of this day, we're launching billboards across the Netherlands, asking you to support the preservation of our forests and Donate a Tree!
Nature is crucial for each and every person living on earth. However, for local communities and indigenous peoples, their lives and livelihoods and so intertwined with the natural processes that are increasingly threatened as deforestation and biodiversity loss increase. 
It is estimated that between 200 and 350 million people live within or adjacent to forested areas, with roughly 28% of the world's surface currently being managed by indigenous peoples. (https://www.wildlifeday.org/). Not only do these people rely intimately on the preservation of nature, but that we in turn rely on them to conserve the wildlife that is so essential for human survival. 
This world wildlife day is drawing attention to these communities and the initiatives that are working together with them to create sustainable models of forest conservation, that take into account the livelihoods and well-being of these guardians of the forests.

At the Black Jaguar Foundation, we're working together with local communities to learn about their needs and requirements for ecological restoration. Taking into account economic return and social impact to create sustainable models of restoration. This means we make a unique plan for each area of land, together with the farmers, to assess how models for agroforestry or sustainable timber systems may work together with the restoration of biodiversity.
The aim is to restore forests that last! By working with local communities these forests become an asset to the community. Not only because of the impact of restored ecosystem services but because of the impact for livelihoods and for the community as a whole. (Find out more from the 2019-2020 Impact study)
You can take action today and help protect our forests and all those who rely on them. Donate a tree!