While conducting our grand mission of ecological restoration, we cannot forget that we are not alone. Many other organizations are also engaged in beautiful projects to protect and restore our planet. That's why we have joined the World Rainforest Day community, which is a branch of Rainforest Partnership.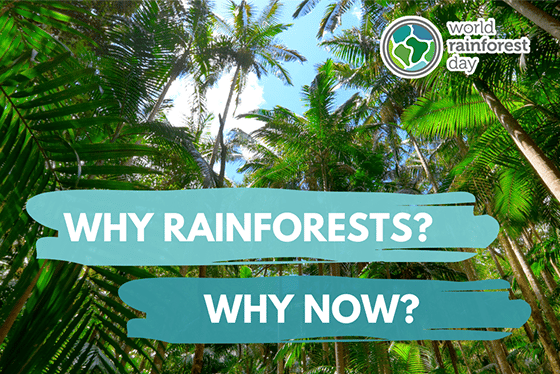 About the World Rainforest Day Community
The World Rainforest Day community was founded in 2017 by Rainforest Partnership, aiming to create a global movement to protect and restore healthy forests. They connect forest-focused organizations with new partners, including non-environmental sectors, and aspiring rainforest guardians.
At the moment, their community consists mainly of rainforest organizations, indigenous groups, policy representatives, youth leaders, the private sector, and creative guilds.
About Rainforest partnership
Rainforest Partnership protects tropical rainforests by working directly with local and indigenous communities, organizations, and governments at all levels in community-centered conservation projects.
In addition to founding World Rainforest Day, Rainforest Partnership also works on the ground with local and indigenous communities in Peru and Ecuador. The images below show the Rainforest Partnership team at work! In the first image, they are at the at COP26 in Glasgow, UK , while the second image shows the Rainforest Partnership team and advisors (including Niyanta Spelman, founder & CEO, and Raina Chinitz, Ecuador projects coordinator) with their partners on the ground (Sani Warmi, a women-led organization) in Sani Isla, Ecuador.
As the World Rainforest Day Community explains, Rainforests are a type of forest where rainfall is continuous and abundant all year round, commonly found in temperate regions. Though they only cover around 6% of the Earth's surface, they provide a habitat to around 50% of all terrestrial biodiversity found in the world!
Rainforests provide the world with natural resources, including fresh air, filtered water, and medicine. They are also the source of many of the products we use daily, including coffee, cacao, spices, common fruits and vegetables, to name a few. Notably, products like beef and the palm oil found in shampoo and many common hygiene and food products are directly related to rainforest deforestation worldwide. This makes it pertinent for consumers globally to look into where their products come from, and how they are produced.
The Black Jaguar Foundation aims to show that agriculture and ecological restoration can walk together, and we are happy to be part of the World Rainforest Day community.
With the support of likeminded individuals and organizations, we can work towards a healthy planet for our future generations!
Find out how you can join the World Rainforest Day community

here

.