Today is #GivingTuesday, so we are sharing with you five reasons to join our mission of hope and action today, if you haven't already!
The Black Jaguar Foundation is working to restore 1 million hectares of degraded land by planting 1.7 billion native trees in collaboration with local landowners in the Araguaia Region. What does this mean and how will it benefit our planet?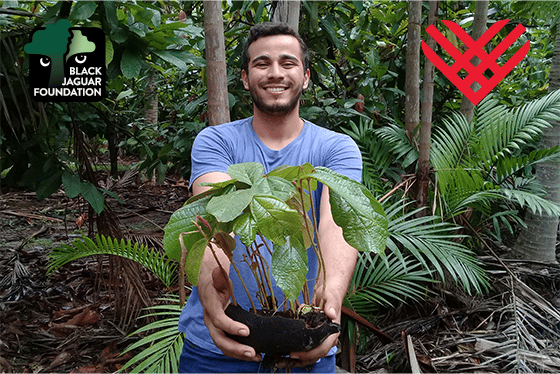 Planting native trees on a massive scale will…
From the plankton in our seas to the jaguars skulking through our forests, biodiversity is the varied and distinct totality of all life forms on earth. For any ecosystem to remain healthy and alive, it must maintain its biodiversity. This is because different species perform different tasks within an ecosystem, and it is the culmination of all these tasks that keep the ecosystem functioning and alive. Just like how a multinational business wouldn't be able to run without a combination of CEO's, managers and interns – an ecosystem can't survive without a synergetic mix of predators and prey, herbivores and omnivores, flora and fauna. 
Planting the right mix of native trees encourages other plants to grow, birds to scatter seeds and small animals to find a home, leading other plants to grow and even more animals to thrive! In that way, planting trees is the first step to encourage nature to take over and biodiversity to flourish again. 
Here at the Black Jaguar Foundation, restoring biodiversity is one of our main goals. We are always very happy to hear when our team finds wildlife in our restoration sites. Have a look at some of the wildlife below! 
Healthy ecosystems provide us with critical services and natural products necessary for international human survival. It brings us great joy to see these come back to life!  
2. Support the preservation of our water systems and aquatic life
The vegetation that is found on river margins is vital for the preservation of different processes that occur naturally in and around rivers. Some of these processes are: the purification of water, stabilizing riverbanks and reducing bank erosion and providing shelter to aquatic animals! Find out more about these processes by having a look at the piece that we shared a few weeks ago, highlighting the importance of the Araguaia River here. 
Here is some footage of the Araguaia river flowing!
3. Provide employment opportunities for the communities in which we opperate
In 2019, we conducted an impact study that concluded that, upon completion, the Araguaia Biodiversity Corridor will provide over 20 thousand jobs to local communities in the region.   
Within these jobs, we do our best to create opportunities for growth. Many workers that started with us as field assistants, with little to no training in ecological restoration, are now being promoted to field supervisors! The training they have received also allows them to work with different ecological restoration efforts in a similar capacity, if they ever choose to move anywhere else. Have a look at the item shared above to find out more about how our team is growing as well as some of their experiences with the BJF.  
4. P

romote community engagement
As you may have heard, the Araguaia Seed Collection Collective is in motion and growing faster than ever!  
The restoration of the Araguaia Corridor relies on planting native trees. To do this, we need native seeds to produce seedlings for the restoration process! That's why we started the Araguaia Seed Collection Collective. A few years ago, individuals from local communities took the initiative to start collecting and providing us with seeds from their gardens, plots of land, and farms.    
This year, the BJF team engaged in many courses in organazing Seed Collection Collectives provided by Rede de Sementes do Xingu, the biggest seed collective in Brazil. After learning from this highly experienced initiative, we carried our various training sessions with local communities.  
We are happy to share that many members of these communities are now regularly collecting seeds, which we purchase by the kilo!  
5.

Bring agriculture and environment together

 
The Black Jaguar Foundation is realizing the Araguaia Biodiversity Corridor together with rural landowners in the region. We do not own any of the land where we carry out ecological restoration, and instead use the land granted to us by our partner farmers.  
Our partner farmers choose to partner with us for many different reasons, and you can find out more about them HERE.  
Watch the video-compilation below and experience what some of our existing and potential partner farmers and political representatives on federal, state and municipal level have to say about our mission of hope & action in realising the Araguaia Biodiversity Corridor in Central Brazil.
We sincerely hope that this Giving Tuesday you take part, in some shape or form. You can find out how to do so

HERE

. Contact info@black-jaguar for more information about how you can help. Thank you as always for your continuous support!