The Araguaia Biodiversity Corridor will consist of strips of ecologically restored land that connect isolated 'islands' of pristine and intact nature. In doing so, it also contributes to keeping the Araguaia River alive, as a lot depends on the river. Not only for fresh water, but also for transport, species in and alongside the river and as a source of cooling amongst many other important ecosystem services.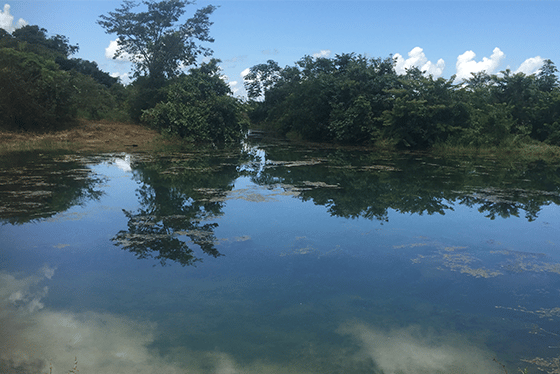 How does native vegetation (trees!) keep rivers healthy?
The vegetation that is found on river margins, often referred to as riparian vegetation, is vital for the preservation of different processes that occur naturally in and around rivers. Such processes include:  
The

purification of water

 

Did you know that trees help to filter water? They do this by first absorbing the water through their leaves, and then releasing it as 1) water vapor and 2) through their roots. In absorbing rainwater, trees also absorb the nutrients that may have been picked up from excess fertilizer or animal waste. In doing so, they lower the amount of pollutants in our rivers.

 Providing

shade and

shelter to aquatic animals 

 

By providing shade during periods with high temperatures, trees help to reduce the water temperature, and keep oxygen in the water which helps preserve aquatic organisms.  

Stabilising

river

banks

and

redu

cing

bank erosion. 

Erosion and sedimentation are natural processes, but can also generate problems for the river's health. The presence of too much sediment in the water reduces water quality and can lower the river's ability to flow, meaning that the quantity of water present can also decrease.  By stabilising river banks, trees reduce erosion and limit the amount of sediments that fall into the river.  
Why is the Araguaia region important for our planet?
The Araguaia and Bananal lowland regions island regions were identified by ministry of environment as priority areas for conservation due to their high biodiversity and vast flooding regions. Also the Cerrado and Amazon are inseparable connected by soil, air and the rivers.
At Black Jaguar Foundation all our efforts are to realise the Araguaia Biodiversity Corridor because we believe that it truly has the size to make a difference. Would you like to join our mission of hope and action? Donate a tree here.