In September of 2019, artists Ivan Nisida and Andrea Tolaini painted one of the 90 Jaguar statues that took part in the Jaguar Parade. This work of art was displayed in public areas around São Paulo to raise awareness about the immediate need for conservation and restoration efforts in Brazil and worldwide! 
Our Jaguar has been inspired by the BJF mission to restore the biodiversity of the Araguaia region. This beautiful piece of art was then auctioned on the 29th November – with the proceeds going to help the BJF progress in our crucial work!
Our Araguaia Guardian is now in a second exhibition phase and will be on display in the Vieira Rezende offices until 31st March, 2020.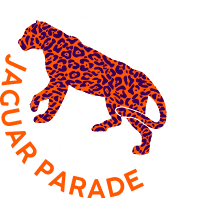 The Jaguar parade, like the BJF, is motivated by the impact that increasing environmental degradation has had in recent years! The parade invites organisations and companies to take part in this important event, not only to raise money for their respective causes but also to raise awareness about the rapidly decreasing biodiversity occurring in Brazil and around the world! 
According to IBAMA, in Brazil, the Jaguar is considered extremely vulnerable and falls under the category 'almost threatened' by extinction. This declining population is largely a result of deforestation, poaching and pollution, making projects, such as our regeneration of the Araguaia corridor, extremely vital to these efforts to bring back native animals and plants! 
Thank you to our Brazilian sponsor and the Jaguar Parade for allowing us the opportunity to be involved in this event!