Erivelto Carvalho started working with the Black Jaguar Foundation during the 2019/2020 planting season. Despite not having professional experience in ecological restoration, Erivelto learnt very fast and connected well with the local team. He grew up in a small local settlement, 80% of which was covered by native vegetation. His skills quickly made him an invaluable addition to the team, and what started out as a temporary job became a life changing experience!
Initially, Erivelto was hired to work in the Santa Fé farm for 10 days. Nevertheless, unforeseen circumstances delayed the planting process, which ultimately took around three months.
Nearing the end of the planting season, three members of the Santa Fé planting team were selected by the farm to take care of maintenance throughout the year. Among these was Erivelto, who then spent another 11 months working exclusively on ecological restoration activities in the Santa Fé farm.
In his interview, Erivelto explained that:
"During this time, [he] accumulated knowledge by constantly observing and asking questions".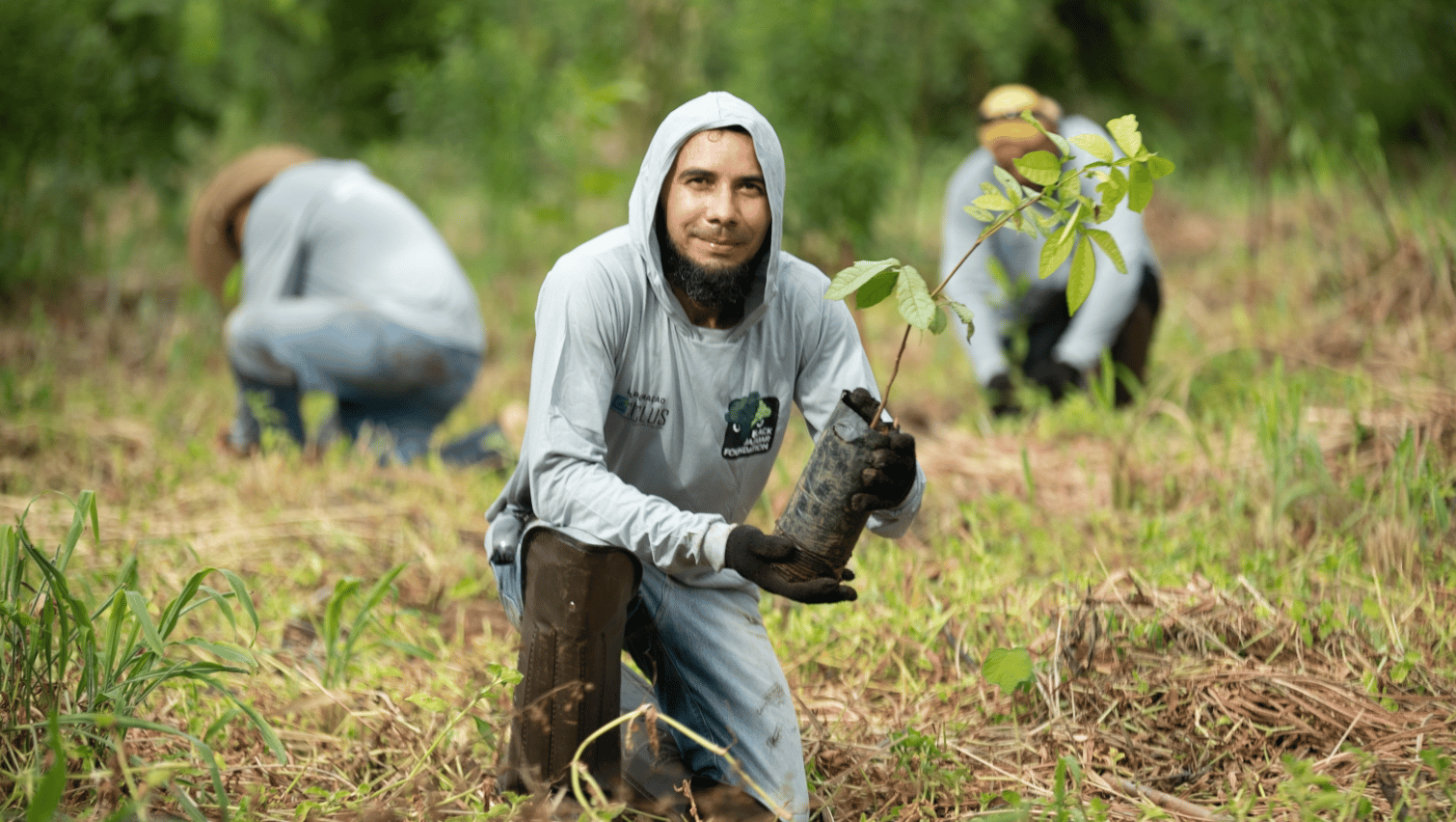 STARTING OFF AS A FIELD SUPERVISOR
Erivelto's efforts and dedication quickly showed results. Carlos Eduardo and Dimitrio, our Field and Project Coordinators respectively, noticed his excellent work and invited him to officially join the BJF team in May 2021 as a field supervisor.
Now, Erivelto is responsible for managing some of the field teams carrying out ecological restoration.  This involves ensuring safety measures are in place, including the proper use of Personal Protective Equipment (PPEs), and training team members along every step of the way.
"One of the first things I explain is how to clean the area to be restored and prepare the soil. During this stage, we won't have defined how to plant the seedlings yet. Finally, the maintenance process has a completely different rhythm. It is slower and we use this period to carefully identify different species", he explains.
According to Erivelto, training new members is a process that takes one year and needs to be completed in the field, so that everyone learns how to carry out different procedures correctly.
OTHER PROJECTS: THE NURSERY AND THE SEED COLLECTIVE
In this past year, Erivelto has also spent a great deal of time contributing to some of the Black Jaguar Foundation's other projects, alongside his responsibilities as field supervisor.
For instance, whenever possible, Erivelto supports Norivânia and Sebastião with our temporary nursery, located in the Santa Fé farm. Among many valuable skills, he has learnt to prepare seedlings and knows about the development of each species in our nursery.
Erivelto dedicated a lot of his time to studying different species in the region, as well as the best periods to harvest seedlings, and continuously uses this knowledge to make significant contributions to our project. Erivelto was particularly helpful in starting the Araguaia Seed Collection Collective. It was his proactiveness that made it possible for local communities to donate native seeds like the red jequitibá, ingá, murici, jacarandá, jatobá, cajá, yellow ipê, and many others.
FUTURE GOALS AND EXPECTATIONS
Erivelto sees himself working with the Black Jaguar Foundation on realizing the Araguaia Biodiversity Corridor for a long time.
"My financial life changed a lot after I started working with the Black Jaguar Foundation. I am more centred, more focussed", he explains.
Erivelto's life wasn't the only one that changed. His three kids, his wife, and his two step children are now all loyal supporters of the Black Jaguar Foundation. Some of his children have even expressed that they wish to become a part of our Project after finishing their studies.
Additionally, Erivelto's sister-in-law
"studied Agronomy and dreams of working at the Black Jaguar Foundation".
These stories make us incredibly happy because our goal has always been to develop the region, generate new jobs, and acknowledge local talents via one of the biggest ecological restoration projects in the region.
ABOUT ERIVELTO
Originally from Pedreiras, in Maranhão, Erivelto moved to Pará when he was 17 years old, where he lived in a small farm with his family. The farm was in a settlement belonging to the Institute of Agrarian Reform (INCRA), in Santana do Araguaia.
From a young age, Erivelto learnt how to plant different crops including corn, produce cheese, breed cattle, birds, and pigs.
"We were born planting", he jokes as he tells us about growing up in the farm.