Our Landraising team is working hard to mobilize and establish more and more partnerships with rural landowners who, like us, believe that sustainability and agricultural production can be aligned.
As a result, our number of land owner partnerships has increased significantly – a total of 17 new contracts were signed last year. This means that we now have a Community of over 20 landowner partners!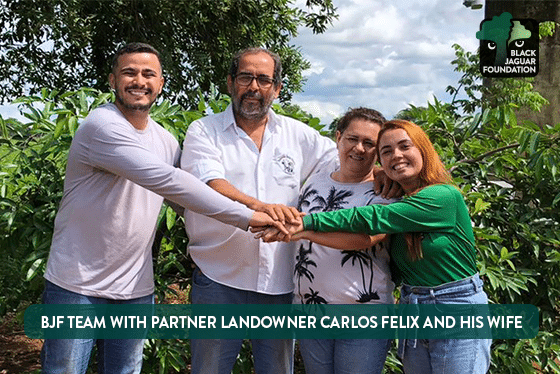 EXPANDING OUR OPERATIONS TO THE XINGUARA REGION
Last week, our landraising team participated in the very Agribusiness ESG meeting of the state of Pará, in Xinguara (Brazil). During the meeting, we had the opportunity to present our project and strengthen relationships with rural producers in the region. The event, held by Aliança Paraense pela Carne, aimed to balance corporate and environmental governance in the agricultural sector in the state.
The event's program included a reading of the Marabá Manifesto – a document signed last year by the Alliance, which outlined the following topics, among others:

A big thank you to the rural producers that participated in the event, many of which showed great enthusiasm towards our project. A special thank you to Clécio Witeck and Daniel Cappellari, who represent the Secretary of Environment of, Mr. Roque Quagliato and family, and the Director of Instituto Fórum do Futuro, Márcio Miranda.
Our project depends largely on the engagement of rural landowners in the region. Without them, it would not be possible to realize the Araguaia Biodiversity Corridor. We are very happy to see our community grow!
Would you like to join us in realizing one of the longest biodiversity corridors on Earth? Become one of the First 600 to join our mission of hope and action HERE.