Last month, Our field team participated in the second set of meetings organised by  the Federal university of South and Southwest Pará, regarding education and research projects. 
During the event, Carlos Eduardo Oliveira (Field Coordinator), Norivânia Diniz (Seedling production analyst) and Laís D'Isep (Seed production analyst) presented the Black Jaguar Foundation's mission of ecological restoration to over 50 university students.  
The main theme of the event was: "Education and social responsibility: building values of citizenship and sustainability".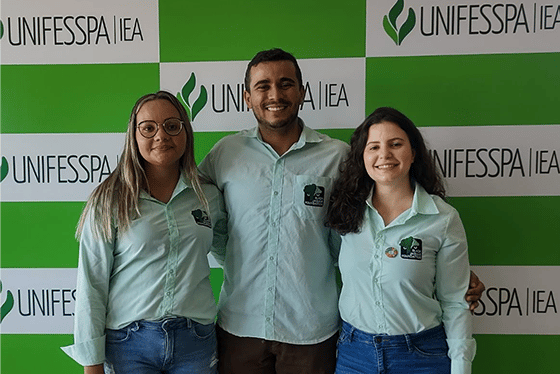 THE ARAGUAIA SEED COLLECTION COLLECTIVE AND THE UNITED NATION'S (UN) SUSTAINABLE DEVELOPMENT GOALS
The UN's sustainable development goals are global treaty signed by 193 member states in 2015. It is made up of 17 ambitious and interconnected objectives, spread out into 169 goals, focussed on overcoming the main challenges of international development.  
 In her lecture, Laís D'isep, our seed production analyst, talked about how collecting seeds can help Santana do Araguaia reach some of the sustainable development goals proposed by the UN.   
PRODUCING SEEDLINGS IN OUR NEW NURSERY
Finally, our seedling production analyst, Norivânia Diniz, dove into her routine working in the BJF nursery: from seedling production, to pros and cons of using different types of containers, to the main challenges faces in the process of seedling production! 
 Norivânia also explained the current infrastructure of our latest nursery, including new machines, what we are using them for, and how that will help with seed production. Overall, this provided a great opportunity to show university what the day-to-day of the nursery is like!  
 Here at the BJF, we believe that environmental education plays an important role in increasing community engagement in issues related to social responsibility. We are incredibly grateful for this opportunity to shape the minds of tomorrow.