On Wednesday 9th September we hosted the first BJF webinar.
At the start of this year, 11 internationally renowned scientists completed an in-depth IMPACT STUDY of the Araguaia Biodiversity Corridor and we are delighted to share the results with you!
During this webinar, we explored the results of the study and held a discussion around the impact for Brazil, and the world. In a year where deforestation in the country is set to reach an all-time high, we chose to focus on how ecological restoration can become part of a more sustainable future for Brazilian Agribusiness.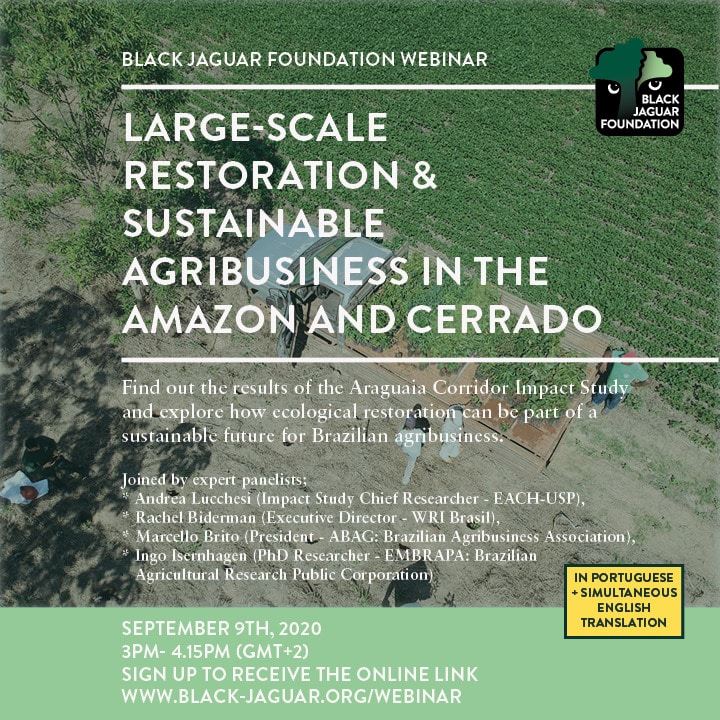 During the webinar we hear from Chief Researcher Andrea Lucchesi who provided a summary of the extensive impact study, before she was joined by expert panelists:
– Rachel Biderman – Executive Director, WRI Brasil
– Marcello Brito – President ABAG (Brazilian Agribusiness Association)
– Ingo Isernhagen – Forest Conservation Researcher, EMBRAPA
Each provided a new perspective on the prospects and challenges associated with looking to large-scale restoration as a catalyst for changing how land use is approached in Brazil.
We are so grateful for all who participated, helped to explore a topic that has the potential to change the environmental landscape in Brazil, and beyond.
If you weren't able to join us on the day, watch the recording here…