As the holiday season is almost upon us, we have two amazing things to share with you!
First, we are honoured to share that we made our very own BJF documentary: A Lens on the Ground. In close collaboration with Nikon & Waterbear. And secondly it is time to get your BJF Christmas Tree Certificate.
A Lens on the Ground: A BJF documentary created in collaboration with Waterbear and Nikon
This year, our organisation was honoured to win a Nikon Europe camera kit and storytelling training from Waterbear to make a short film, directed by our Communications Coordinator Ana Paula Mendes, that gives you a glimpse of the inspiring people working at the frontline of The Black Jaguar Foundation.
Watch our documentary below:
"A Lens on the Ground" zooms into the Araguaia Biodiversity Corridor and showcases the stories of our team – making it clear that ecological restoration starts with the communities on the ground! Through a visual story, we showed the faces behind our restoration processes, emphasizing the motivation of the BJF team to create positive change in their communities and how working with Black Jaguar Foundation is shaping their lives.
The documentary highlights the benefits that come with ecological restoration, focusing on local communities and Santana do Araguaia's economy. As our Field Coordinator, Carlos Eduardo Oliveira, explains in the documentary, the social aspect of the BJF is a very important one for the region and beyond. Before the BJF started its operations in Santana do Araguaia, the city did not have a stable and evolving job market. Now, environmental engineers, forest engineers, and restoration professionals living in the region can find work in the area, next to the workforce we hire and train to help us realise the corridor in the region.
Are you still looking for that one thoughtful gift that does not involve waiting in long holiday lines….and makes us, and our planet happy? We hope our BJF Documentary inspires you to support our work.
Give the gift of life this Christmas!
Each donation directly supports the realization of the Araguaia Biodiversity Corridor, connecting the Amazon Rainforest with the Cerrado Savanna. This year, we have created a beautiful certificate of tree membership to celebrate the holiday season. Have a look at it below! Send an email to info@black-jaguar.org before the 21st of December to ask for your personalized tree certificate.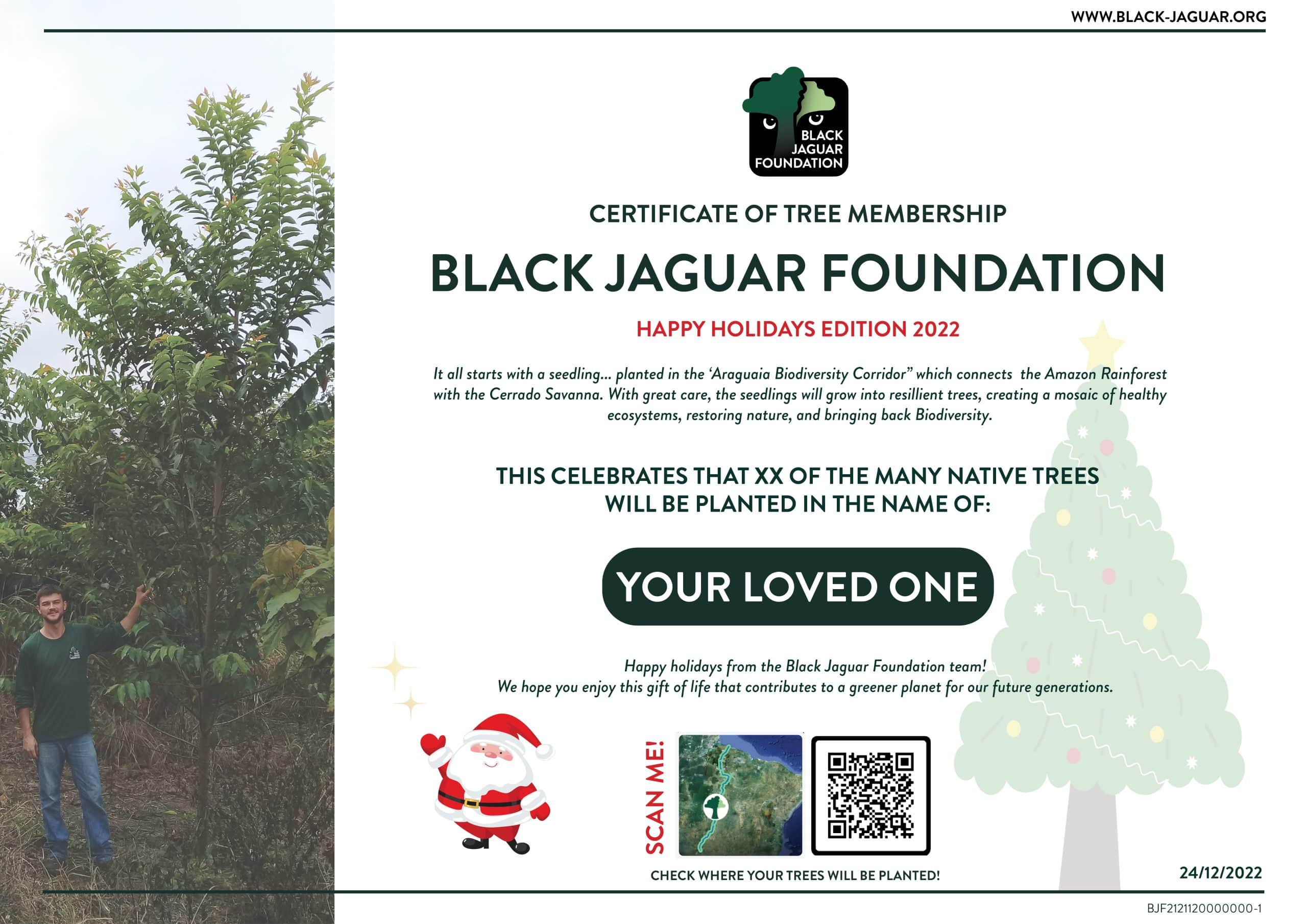 You can DONATE ANY AMOUNT, big or small, and contribute to restoring biodiversity in the Araguaia region. With a donation of € 5, you will already be supporting the growth of one native tree!