We are very excited to introduce you to Sumthing: a platform that is working hard to create a visibly nature positive world. Sumthing has been providing full visibility of the results of our project and helping the Black Jaguar Foundation to make a real, tangible impact. Together, we are growing the BJF community and showing that anyone can make a difference – it's too late to be a pessimist!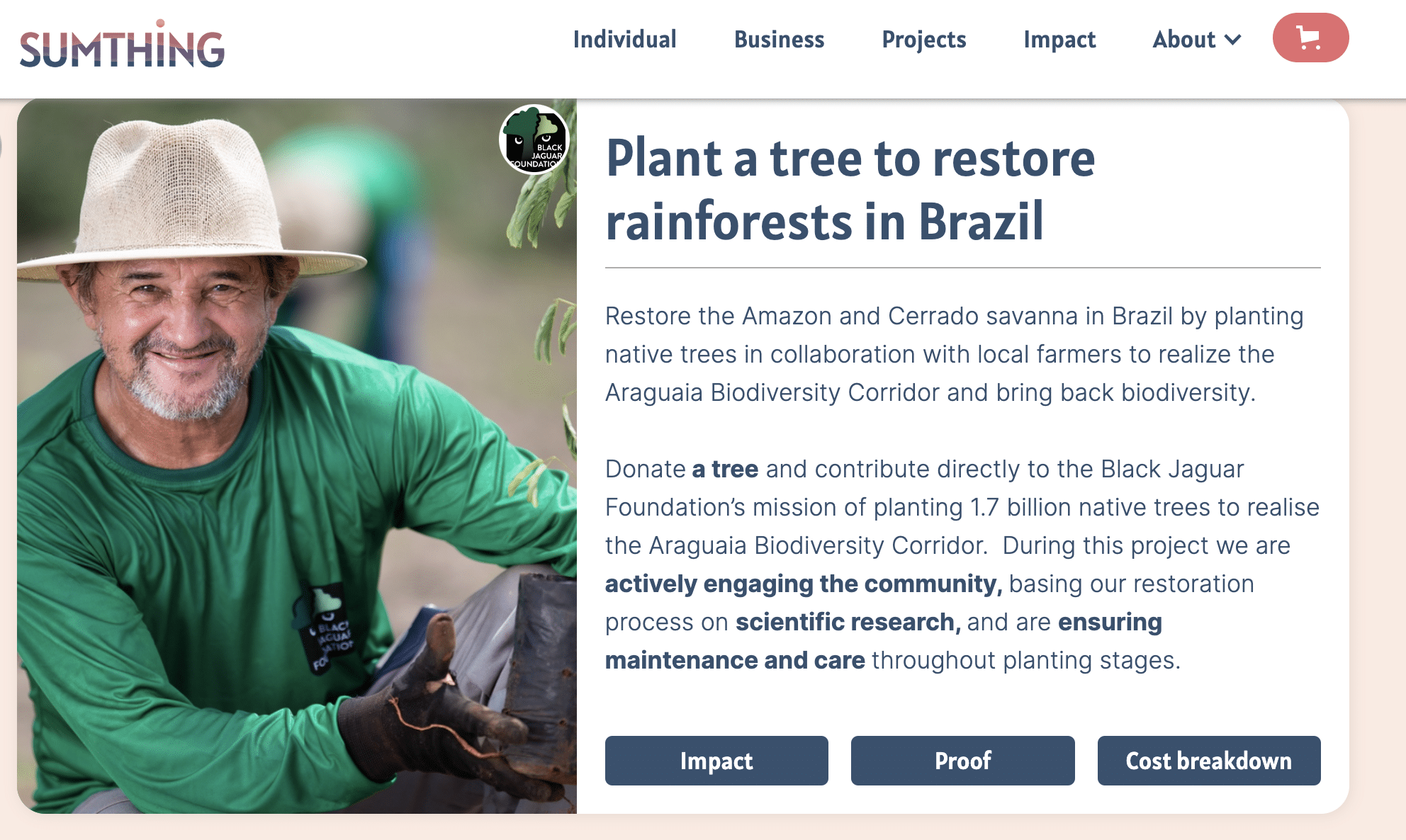 Sumthing brings transparency to environmental action by providing real-world proof for each contribution. Planting a tree or building a coral reef to doesn't happen overnight and that's why they transparently share the status of each contribution until after the project has been completed.  
How is Sumthing helping us increase visibility of the realisation of the Araguaia Biodiversity Corridor?
Sumthing has created several different tools that are helping us showcase the progress of the Araguaia Biodiversity Corridor.    
An example of this is the beautiful widget below, which shows where our partner's trees are located, and how their tree looks at this stage: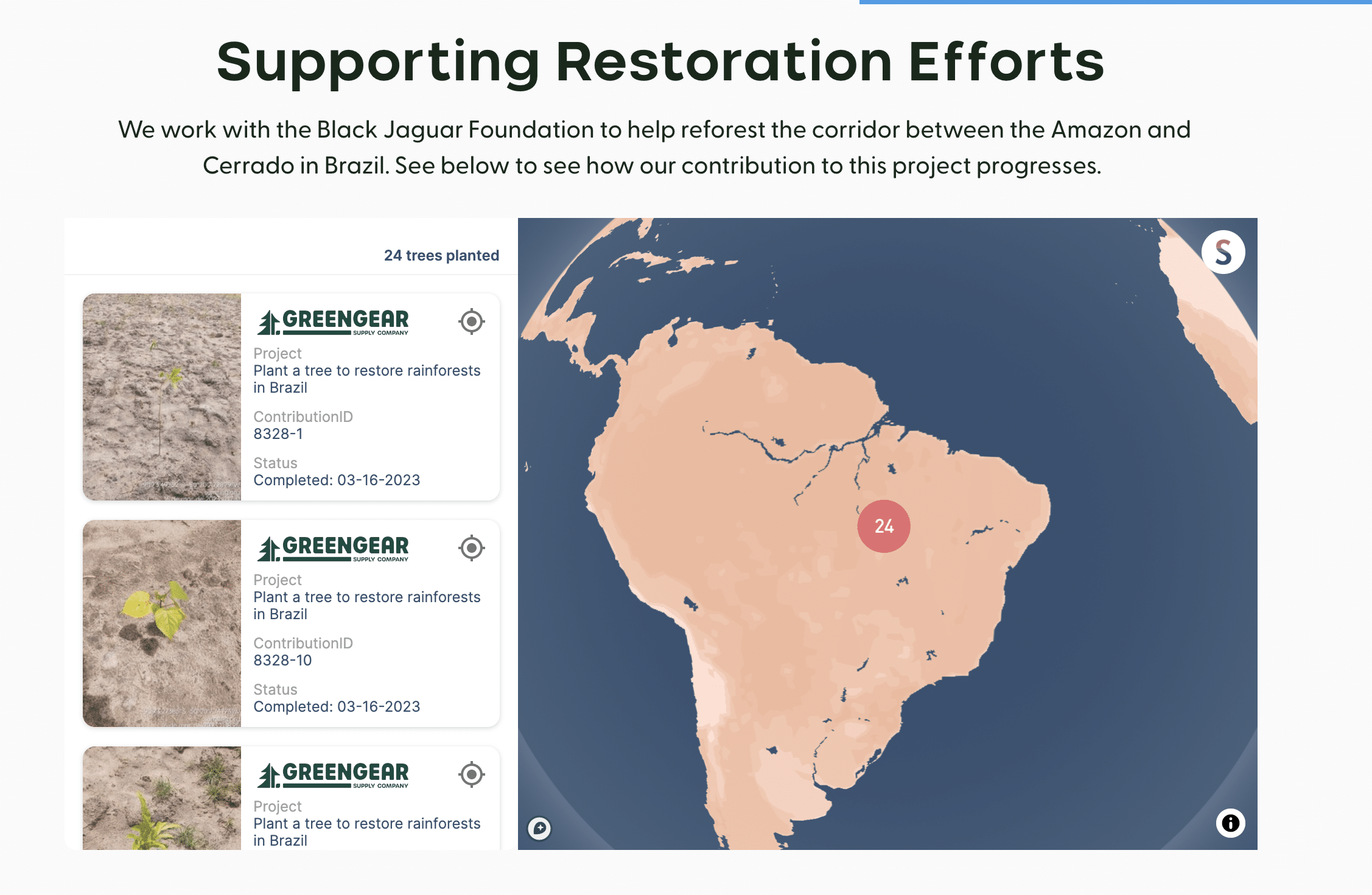 Further, they showcase tangible measurements of how our project of ecological restoration and emphasise that almost half of the cost of planting a tree will go towards maintaining it and ensuring its growth. At the Black Jaguar Foundation, we carry out 17 steps to safeguard healthy forests.   
When you make a donation to the Black Jaguar Foundation via the Sumthing platform, you receive: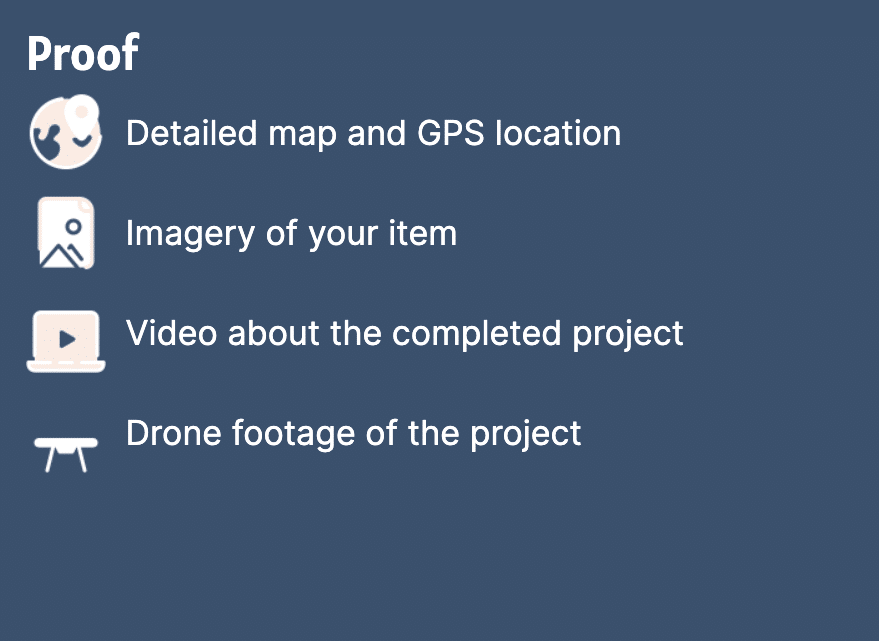 Growing the BJF community together
By providing us with exciting new widgets and tools to showcase our results, Sumthing is also helping us grow our existing community of sponsor partners.
At the moment, some of our Sumthing x BJF donors include:
Green Gear Supply: a company that

aims to inspire a more sustainable and equitable world through innovative products – starting with their rain poncho. Their reusable and recyclable poncho is made from responsibly sourced materials and perfect for outdoor activities!

 
Mutsy: a brand that

creates beautiful strollers with our future generations in mind!

Many individual donors which are showcased on their impact page: 

 

Can you see how easy it is for anyone, anywhere, to make a positive difference for the planet? Join us today by clicking HERE or send an email to info@black-jaguar.org to find out more!.