To celebrate the Brazilian Nature Day on October 4th, Instituto Natureza do Tocantins (NATURATINS)'s technical team visited our new native seedling nursery in Santana do Araguaia!
 The organization is responsible for the implementation of public policies aimed at preserving and conserving natural resources in Tocantins. They visited our nursery to understand the processes involved in seedling production and use this to re-operationalise the nursery in the Cantão State park (Parque estadual do cantão).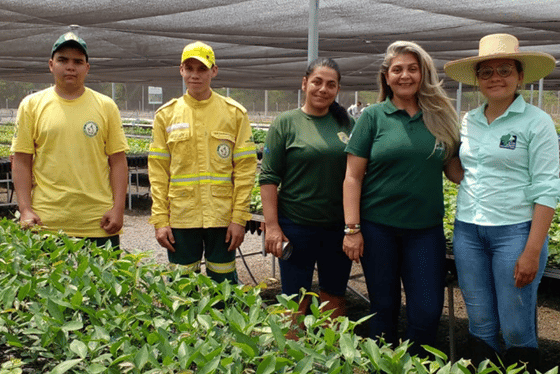 During the visit, Norivânia Diniz, who is responsible for coordinating the Black Jaguar Foundation's nursery team, explained the different areas of our nursery, the machinery that we use and the processes involved in seedling production. Seedling production starts with the substrate and sowing of the seeds, to ensuring the seedlings have become resilient enough to be planted, and finally the transporting of seeds to our ecological restoration sites.
In addition to monitoring the day-to-day work in our nursery, the NATURATINS technical team was also able to ask the BJF team all of their questions. "Since they would like to re-operationalise a small nursery, like the one we had at Fazenda Santa Fé, I was able to share my experiences and explain how we carried out the activities there", explains Norivânia.
We are very proud to provide an example of the successful production of seedlings in the Araguaia region and hope to that our contribution to the ecological restoration of our forests grows a little bit more every day!
Find our more about how NATURATINS celebrated Brazilian nature here