In cooperation with Tulpen van Sam, based in The Netherlands, the BJF team spent the day delivering beautiful climate neutral tulips to some of our loyal BJF partners and friends. The event took place just in time for Easter and we hope the tulips brought even more joy to many family celebrations! Have a look at the smiling faces of some of our valued partners and sponsors in the image below: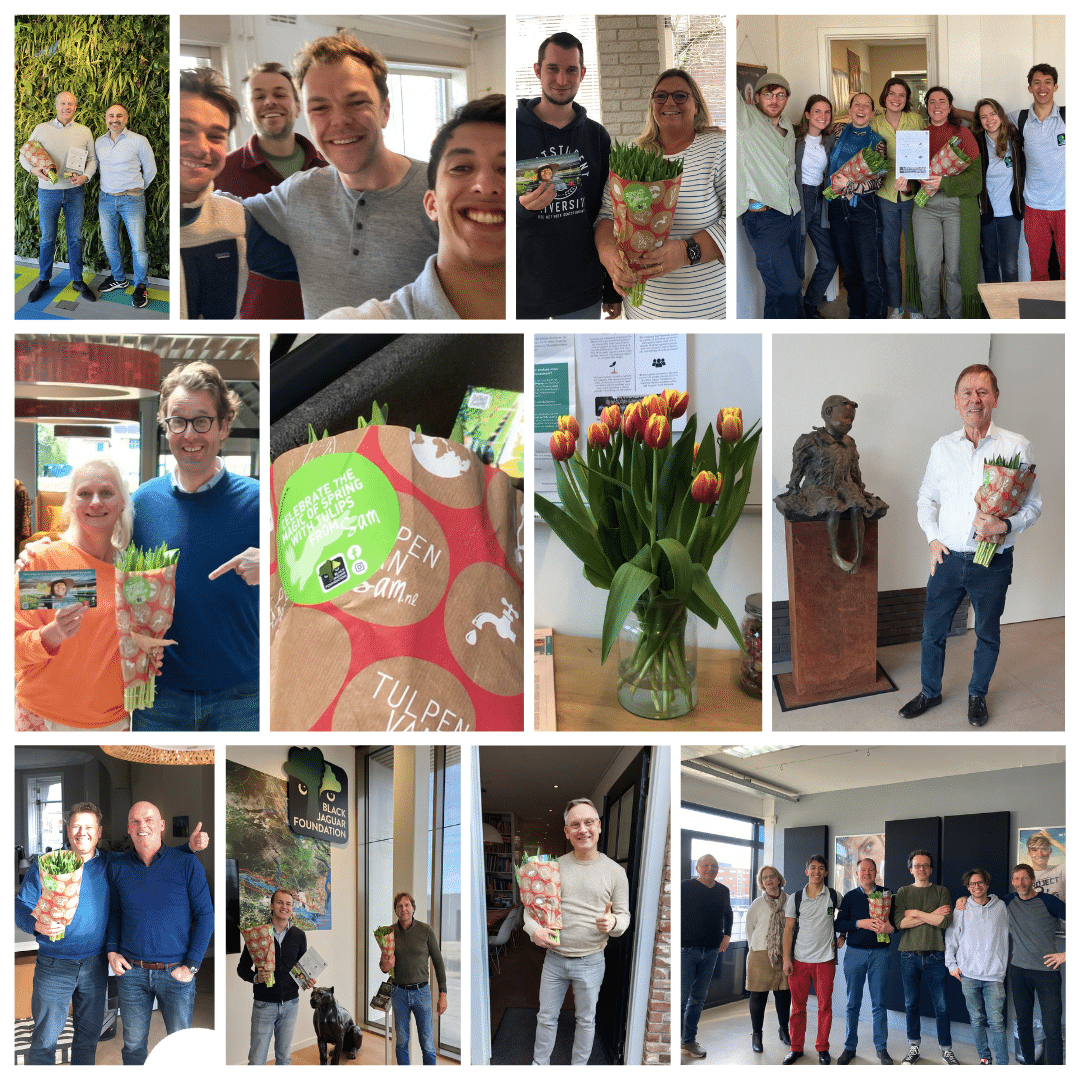 We spent all day on the Tuesday leading up to Easter Weekend, some of us in a car and others on a bike, traveling around the Netherlands and into Belgium to visit our partners and sponsors.
With each visit we personally delivered beautiful bouquets of tulips, an Easter card, and a personalized letter with some updates from the field. We loved seeing the surprised faces of our unsuspecting friends, and are excited to continue this tradition for many years to come!
The tulips serve as a reminder that restoring the Araguaia Biodiversity Corridor is only possible with the continuous support of the BJF community. Would you like to join us on this mission of hope and action? Become one of the First 600 HERE.
Tulpen van Sam is a Dutch tulip and tulip bulb company and has partnered with the BJF to render the production of his tulips climate neutral. While delivering the tulips, we received many questions regarding their production. Thankfully, Sam Ruijter, owner of Tulpen van Sam, created a beautiful video-testimonial that explains this very well! Watch it below:
Our partner Tulpen van Sam has been working hard over the past six years to ensure that the production of their tulips is carbon neutral. Sam has built a smart tulip nursery that makes use of solar panels, heat pumps, and LED-lights to provide heat for the growth of his tulips without fossil fuels.
Besides these innovative advances, since 2020, Sam has also been planting trees with the Black Jaguar Foundation and helping us realize the Araguaia Biodiversity Corridor.