Royal De Heus, one of BJF's international partners  won one of the Dutch-Brazilian Chamber of Commerce (Dutcham)'s  sustainability awards and opened their sixth factory in Brazil! We are excited to see how Royal De Heus is working towards making food production more sustainable. Keep reading for some of De Heus' most recent milestones in 2023.
Dutch-Brazilian Chamber of Commerce's Inspire Award Dinner
Thanks to the generous invitation from our long-term partner De Heus, the Black Jaguar Foundation able to participate in the Inspire Award Dinner, organised by the Dutch-Brazilian Chamber of Commerce. This major event in São Paulo was hosted by the Dutch Prime Minister, Mark Rutte.
It was a great night!  De Heus Brazil won one of the 4 Inspire Awards for their Sustainability & Corporate Social Responsibility initiatives, partly because of their partnership with the Black Jaguar Foundation. 
The "Dutcham Inspire Awards 2023" is an initiative that selects the most inspiring projects of 2022 in the field of a more sustainable and socially responsible business conduct in Brazil.  This year, De Heus Brasil's sustainability program, Responsible Feeding, joined forces with the Wow Project in 2022, which aimed to address specific common issues. The project's focus was on providing a "Transformative Look" focussing on the issue of plastic waste, which negatively impacts ecosystems worldwide. De Heus organized a voluntary cleanup event in cities where their offices are located. They collected more than six tons of waste, which was sent to recycling cooperatives. 
Further, De Heus visited the Black Jaguar Foundations' project in Santana do Araguaia to see how their donations are greatly contributing to our process of ecological restoration process and helping us bring back biodiversity.  
During the event, our Planting season video was played on the big screen for all of the corporate and diplomatic leaders present, such as Mrs. Ingrid Thijssen (President of VNO-NCW), the Dutch Ambassador for Brazil and corporate leaders of other Dutch multinationals in Brazil.
At the end of the event, we also distributed some seeds that are native to the Araguaia Region: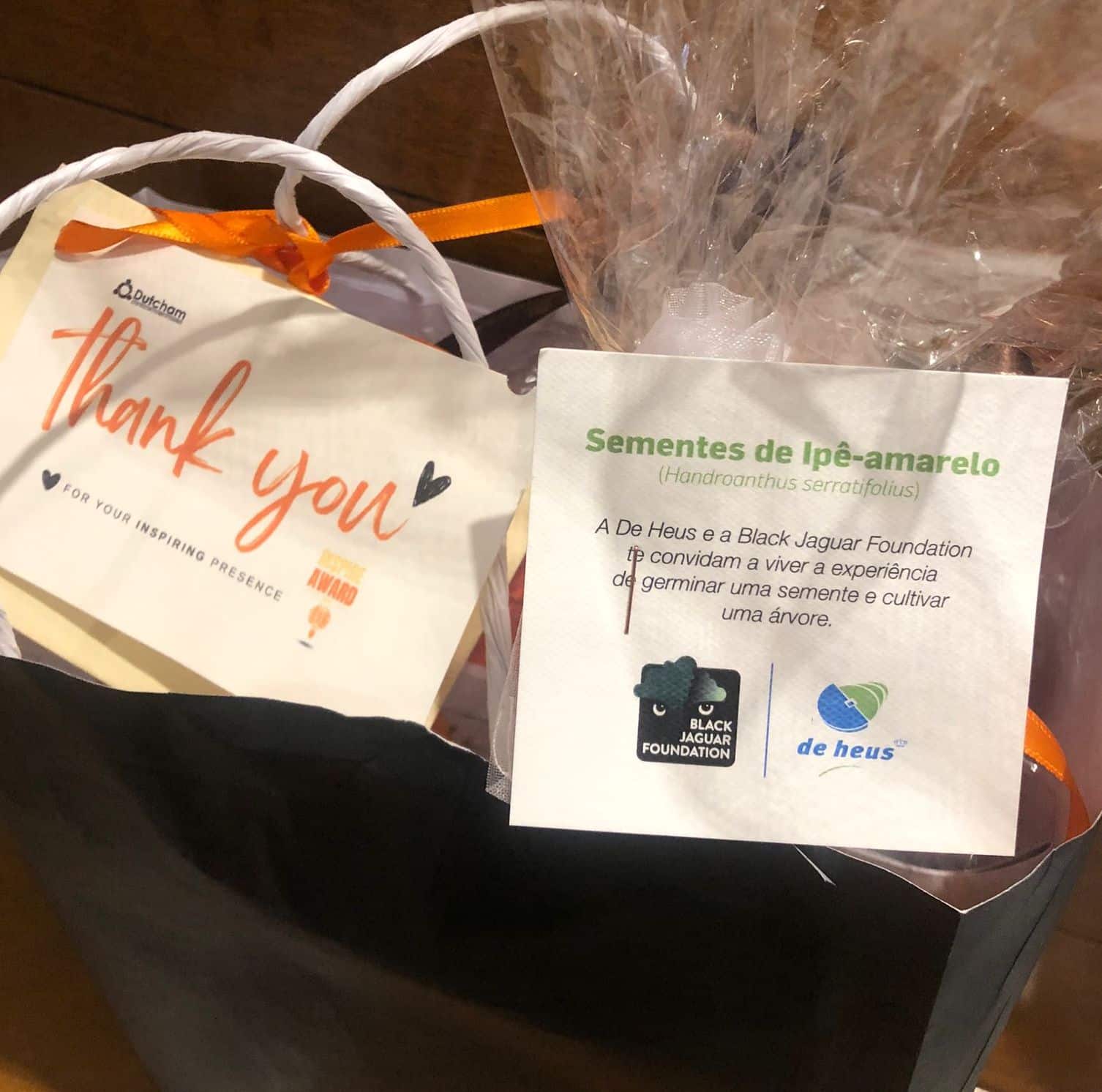 Opening of De Heus 6th Factory
At the start May, our loyal partner Royal De Heus also inaugurated their new factory in Itaberaí (Goiás)! The event welcomed around 400 participants and was a big success.
The CEOs of Royal de Heus, Mr. Koen De Heus and Mr. Co De Heus, and the president of De Heus Brasil, Rinus Donkers, were also all present at the opening of the 6th Royal de Heus factory.
We are excited to see how Royal De Heus is expanding and working towards a making food production more sustainable.
A big thank you to Royal De Heus for inviting us to this wonderful event and ensuring that the Black Jaguar Foundation was present in all aspects of it! Below, you can see pictures of our planting season video, played on loop throughout the event, the seeds participants could pick up at the very prominent BJF corner, and pictures made and printed directly at the event – all of which also included the BJF logo!
Would you like to support this and other initiatives of the Black Jaguar Foundation? Join the First 600 and become part of our movement!