As of 2022, The Black Jaguar Foundation is happy to be one of the environmental solutions showcased on the 1% for the planet platform!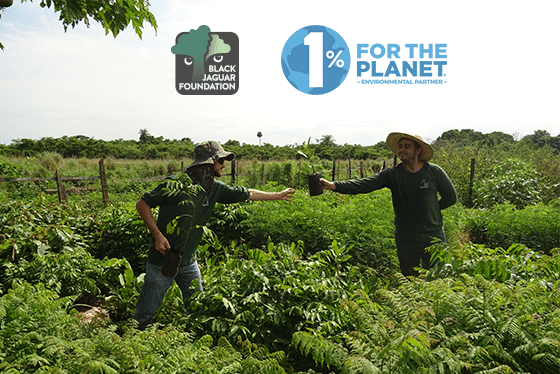 1% for the Planet is a global movement inspiring business to support environmental solutions through annual memberships and everyday actions. It has already enabled us to make great connections including our very first 1% for the planet partner: Green Gear Supply! The movement was founded in 2002 by Yvon Chouinard, founder of Patagonia, and Craig Mathews, founder of Blue Ribbon Flies on the premise that: companies profit from the resources they take from the Earth and should therefore protect those resources!
Restoring the balance between nature and humankind is more important than ever before…
As noted in the 1% for the planet platform, the current level of environmental giving is only 3% of total philanthropic actions. This is far from enough to solve climate issues that need to be urgently addressed to ensure a healthy planet for our future generations.
That's why the 1% for the planet platform incentivizes businesses and environmental projects to be "all together for the planet". Through the 1% for the Planet platform, business and individual members can engage directly with approved Environmental Partners and offer monetary donations, volunteer time, and service donations.
Our journey with 1% for the Planet 
Becoming a 1% for the Planet partner involves a careful vetting process which helps ensure the credibility of environmental projects. The Black Jaguar Foundation is proud to be showcased on the platform, together with some other inspiring environmental projects carrying out incredible work in the areas of climate, food, land, pollution, water and wildlife. We are very happy to be a part of the 1% for the Planet community of nearly 4,000 Environmental Partners in more than 90 countries. So far, over $265 million has been certified to support approved Environmental Partners.
Soon, we hope to connect with many different organizations and individuals working towards a greener future and that many of these join us in realizing the Araguaia Biodiversity Corridor! Find out how you can become one of our 1% for the planet partners by accessing their platform here.
Who has joined us so far? 
Green Gear Supply, our first official 1% for the planet partner, aims to inspire a more sustainable and equitable world through innovative products – starting with their rain poncho. Their reusable and recyclable poncho is made from responsibly sourced materials and perfect for outdoor activities!
Find out more about Green Gear Supply by visiting their website: https://www.greengearsupply.com/
Would you like to join us in realizing one of the longest biodiversity corridors on Earth? Become one of the First 600 to join our mission of hope and action HERE.